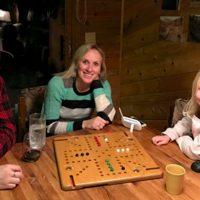 5 family games to beat winter boredom | Blogs
[ad_1]
By Jaime Wyant

It's no secret that our family loves games. We play a game every night before going to bed with Marin, our future 5 year old, and usually several others throughout the day. My husband and I also play the Pinochle card game, with my grandparents one evening a week. I love that this is something we all enjoy and I look forward to the day our 1 year old Liam can join us.
Last winter I blogged about 5 family-friendly board games for kids of all ages and we still play these five games often. However, if you are looking to develop your family's interest in games, here are some other must-see games from us.
The only difference between this game and the original Suspend is that the pieces are plastic instead of metal and you spin instead of rolling a dice. So choose one according to your preference. It's a fun and tricky game and a great way to teach your kids about balance and stability. See who can balance all of their pieces from the executioner-type platform before they collapse!
We love these two games, but they are very similar, so I am listing them both in the same category. In both games, you roll a dice and do your best to get your 4 game pieces home before everyone else. It takes a lot of luck, but also a lot of strategy – you can 'crush' other players. Our daughter is the queen of disappointment, and it has taught her a lot about how to look to the future. For fun, when we play foursome, we team up. Once you have brought your 4 coins home, you can also help your partner in.
[ad_2]
Source link