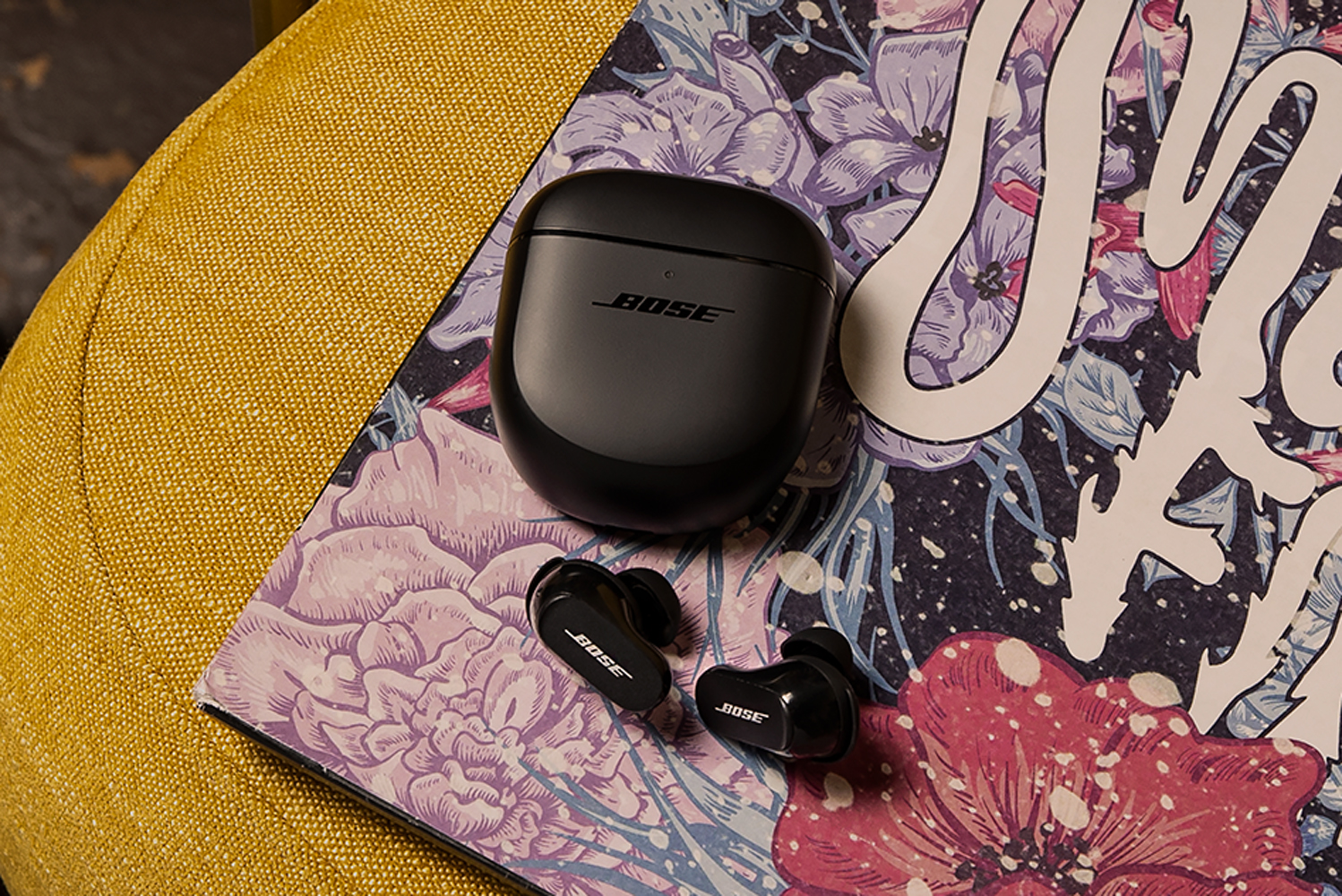 Bose QuietComfort II headphones review: no excuses
I don't care how the song goes, just because you're "the original" doesn't automatically follow that you're "the greatest".
Take Bose, for example. It's the company that invented noise-canceling headphones, and the company that regularly makes headphones that cancel noise very effectively. But as we know, there's more to it – and when it comes to sound quality, aesthetics and comfort, Bose doesn't always do its reputation entirely justice.
However, the QuietComfort II headphones are supposed to change all that. Here are the true wireless headphones that Bose believes can compete in every department – ​​oh, and have the best noise cancellation at the same time. Can this be true?
Design and construction: smaller is more beautiful
We've gotten off to a good start here – but again, Bose would have to do something bigger or less flattering than the original QuietComfort headphones.
The QuietComfort II headphones are smaller (17 x 31 x 22mm) and lighter (6.2g) than the model they replace – and so they look smoother, more discreet and altogether less clunky than the originals. You can wear the QCE II and do it without looking noticeable – something you couldn't say about the older model.
Bose has also upped the 'comfort' quotient over previous headphones, by including a whole stack of options when it comes to fit. The QuietComfort II earbuds have a small AirPods-style stem, but twist in the ear – and to help them get into the ideal position, they come with three sizes of silicone tips and three sizes of 'stability bands' silicone. These fit around the retail end of the earpiece and feature a protruding 'fin' to help maintain positional stability. Unless you have the kind of ears that appear in medical textbooks, you should have no trouble getting a secure and comfortable fit.
The build quality, as is customary with Bose, is basically flawless. And the company has managed to tone down the plastic nature of the materials it uses by rolling out glossy and matte surfaces in what it calls a "triple black" finish. A "soapstone" alternative (which looks a lot like "shades of white") will be available for much longer. The headphones are IPX4 rated, so they should be used in all realistic conditions.
Features: What does your channel look like?
Bose has installed a large (9.3mm) full-range driver in each earbud to handle sound streaming activity. Audio information is integrated via Bluetooth 5.3 – codec compatibility currently only works on SBC and AAC, which is disappointing, but Bose seems to think some over-the-air upgrades will extend this particular area of ​​functionality.
The headphones last about six hours of battery life, and there are three more full charges in the tidy little case. A total of 24 hours is about par for the course, and a few extra hours of action after a 20-minute charge isn't too bad either. From 'flat' to 'full' is a three-hour job, and there's no wireless charging capability – it's all via the charging case's USB-C socket.
It is with its latest noise cancellation methodology that Bose intends to differentiate QuietComfort II headphones. Each time the earphones are removed from their charging case and inserted into the ear, a rapid tone sounds and a microphone inside the earphone measures the response of the wearer's ear canal. In less than half a second, an algorithm called "CustomTune" adapts both the audio profile and the active noise cancellation to the particular properties of the ear in question. The same software also increases the transparency mode of the headphones (here called "Aware"). As well as claiming to deliver the most natural impression of what's going on outside, it's designed to respond instantly to sudden, noisy events by activating noise cancellation for as long as needed.
Interface: are you comfortable?
Although the 'stem' part is kept to a minimum, Bose has still found room for a fairly large and well-responsive capacitive touch surface on each earcup. Either can manage playback, volume, skip tracks, and answer calls. Each can choose a shortcut to access your phone's voice assistant or cycle through ANC options, which can be selected in the Bose Music control app.
As it has been for some time, the Music app is clean, stable, and useful. It's not as broad or comprehensive as Sony's offering – very few apps are – but it's still worth it. This is where you can make EQ adjustments via a three-band EQ or choose between four presets. Here's where you can select the level of noise cancellation you want – Quiet offers the maximum and Aware is for the outer pass, with options to specify another torque using a 10-step adjuster. The app will even run a quick test to make sure your headphones fit properly.
Each earbud has four mics, to support telephony, voice control and noise cancellation. There's no built-in voice assistant, but summoning your source player's assistant and interacting with it is quick and simple.
Performance: Listen to me now (and nothing else)
Leave the EQ adjustment well alone – the QCE II was designed to sound best when flat, and manipulating it can only 'alter', rather than 'enhance' audio performance. With that caveat, almost all Bose news is good.
With a stream derived from TIDAL from The Smile's A light to attract attention When playing, the QCE IIs have a pleasantly laid-back demeanor – but that doesn't mean they lack vigor or assertiveness. It's just that their overall tone – just a touch warmer than neutral – and their open, confident soundstage make them very easy to listen to.
Low frequencies are big and bold, yet properly controlled at the same time, so rhythms sound natural and tempos don't sag. There's plenty of detail available, and as much momentum as punch. As the underpinnings and driving force of the recording, the low end is quite suitable here.
At the opposite end of the range, treble sounds aren't as crisp as they could be – there's a hint of 'safety first' to the way the Bose delivers top-end. But, again, they are very detailed and have a lot to comment on the texture of the instrument. They never hint at harshness, even if you're listening at a high volume.
It's basically the same story in the midrange. The expansive nature of the QCE II soundstage means vocalists have all the headroom they need – and then the Bose delivers an absolute stack of detail regarding their technique, mindset, engagement and everything in between. things that go into bringing a vocal performance to life. Integration into the frequency range above and below is effortless.
There is a hint of inhibition in the way the QCE II processes the large dynamic changes evident in this recording, although they are more than able to differentiate 'loud' from 'quiet'. Other designs, however, can make these large variations more obvious and expansive while they're at it. When it comes to more nuanced harmonic variations that require good dynamic insight, however, the Bose have nothing to be ashamed of.
After demonstrating good competitiveness at all levels when it comes to audio quality, the Bose then goes out of the park when it comes to active noise cancellation. Bose has always excelled when it comes to ANC, but the QCE II is almost certainly its best effort yet. They process ambient sound across the entire frequency range and process it decisively. There's no alteration to the way they sound, no trace of in-ear pressure or background noise disruption that lesser-performing designs suffer from. Instead, there is the almost total negation of external sounds that are not a) terribly loud, b) extremely close, or c) both.
Bose QuietComfort II Headphones Verdict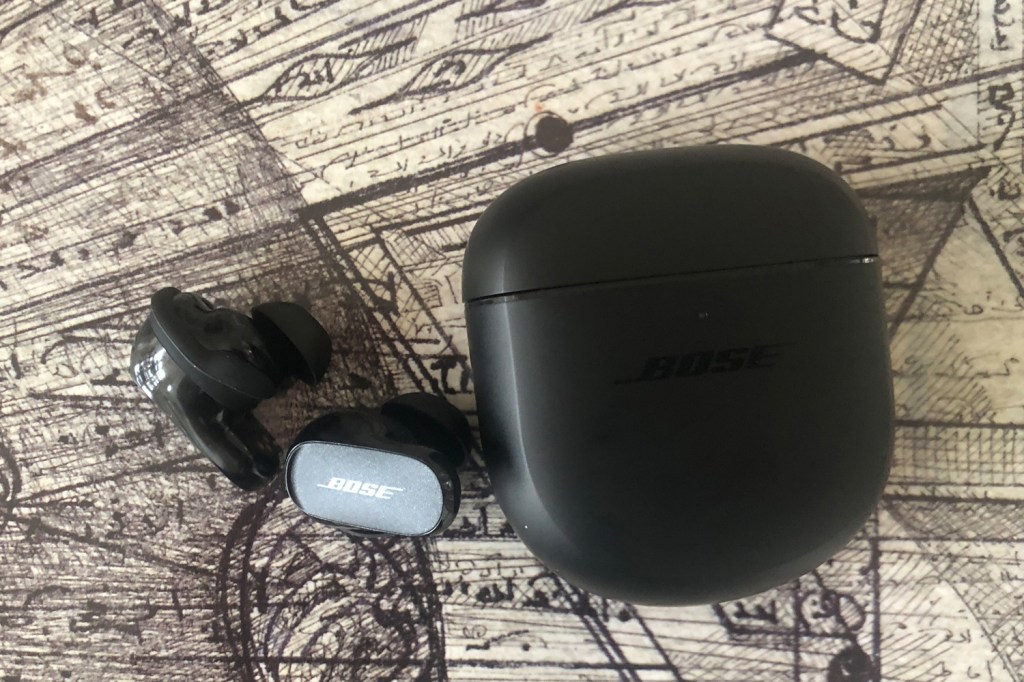 That you can't do better when it comes to active noise cancellation should be obvious.
Yes, the QCE II can be improved (just slightly) in sound quality, and improved (comfortably enough) in battery life. But overall, these Bose are seriously competitive.
Technical specifications of the Bose QuietComfort II headphones
Drivers
9.3mm dynamic
Active noise cancellation
Yes
Battery
6 hours (buds, ANC ON) 18 hours (cases)
Bluetooth version
Bluetooth 5.3
Supported codecs
SBC, AAC
Dimensions
30x17x22mm (buds) 66x59x27mm (box)
6.2g (buds)