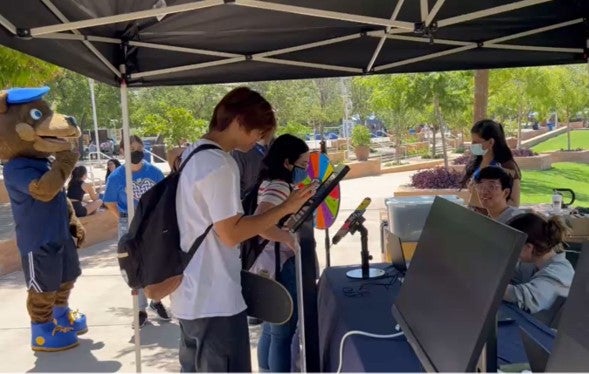 ITS providing a new user experience on campus
Intuitive. Engaging. Integrated. These are the three main factors driving the coming changes in information technology information at UC Riverside.
Starting Sunday, October 30, campus users looking for information technology information, resources, and support can expect a simplified and comprehensive user experience when visiting the Information website. TechnologySolutions. The new website layout and integration with other STI platforms means that users will be able to quickly and easily access self-help advice in the knowledge base, request software, browse and request services, check the status of campus IT systems, watch training videos, stay informed about security issues, request IT assistance, and track their tickets and requests from a personalized IT dashboard.
"The catalyst for this effort is the voice of our Highlander community," said Alexandra Chrystal, communications and training manager for UCR Information Technology Solutions (ITS) and co-lead of the project. "ITS is committed to improving the campus user experience with IT services and information, but we know this can only be achieved if we engage the people who depend on central IT services. That's why, for this multi-phase project, we formed a committee of stakeholders to ensure that the voice of the user is represented at every step of the process. »
The project's stakeholder committee, which helped determine and test enhanced features and functionality, is made up of UCR staff and faculty representing various units and colleges. Students also tested the new experience and provided feedback in a week-long on-campus beta testing event.
"The new support site has a logical collection of resources; it's easier to find help, whether it's a knowledge article or a support request from the ITS team," said Carol Marquez, UCPath Technical Project Manager and member of the project committee. "It saves time and guesswork. The biggest advantage is that I can easily find the group that supports my request. »
The integration of ITS platforms helps make the website a one-stop-shop for core IT needs.
"The website is easy to use and intuitive," said committee member Melanie Ramiro, Performing Arts Marketing Specialist for the College of Humanities, Arts and Social Sciences and Director of Marketing and Communications for the UCR Staff Assembly. "The new chatbot streamlines the answers I need from the knowledge base. It will make my job easier in the future when I need to find answers or open a ticket with ITS.
Key features users can expect to see at launch include:
• An "IT Starts Here" page with resources that help new users get set up and connected to technology based on their role
• Action-oriented navigation to make it easy for users to find what they need
• An AI chatbot that can answer frequently asked questions 24/7 and help users submit a ticket if they need further assistance
• An interactive help form that uses the user's answers to questions to determine what is needed and route the support request or ticket to the appropriate IT staff
• The ability to submit a support ticket as a guest if the user is a visitor or does not remember their NetID credentials
• Improved mobile friendliness so users can access IT information and submit requests from their mobile device
• User-friendly categorization of IT services and knowledge base articles (learn more)
• Role-based form access (for example, UCPath agents will be able to see the option to display UCPath forms on login)
• A personalized IT dashboard that allows users to view current and past support tickets, service requests, support tickets submitted by their department, and more.
• A video tutorial on the home page that explains how to access various functions and features
"We are thrilled to unveil the new on-campus experience," said Chrystal. "Our goal is to bring greater value to our exceptional university community, so we encourage users to provide us with feedback so we can continue to make improvements."
As mentioned earlier, this launch is just one of many phases planned to improve the campus user experience with IT information and services. The project team will start working on additional features, such as search bar integration and the ability to request an escalation on a support ticket. Subsequent phases will focus on further process automation and revision of the ITS service catalog.
Visit its.ucr.edu on Monday, October 31 to see the new campus user experience.
ITS will roll out the new Drupal website, ServiceNow portal, and TechAlerts webpage at 10 p.m. on Friday, October 28. No disruption to these services is planned, but users should be aware of the risk of disruption as changes will be made to these services during the maintenance window, which closes at 3 p.m. on Saturday, October 29. To view the status of this planned change, please visit techalerts.ucr.edu.