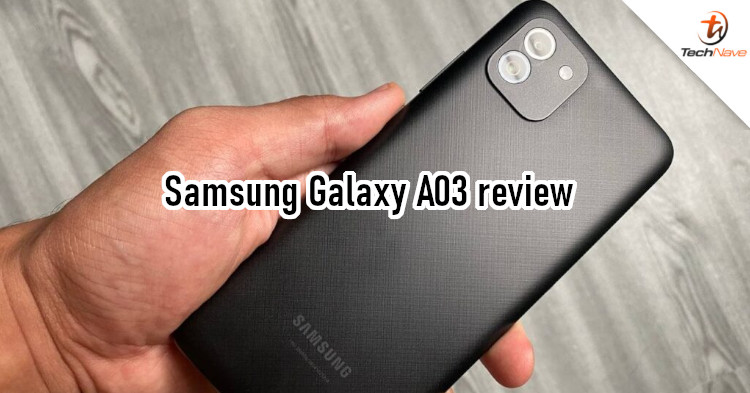 Samsung Galaxy A03 review – A budget phone with features suitable for everyday use
After Samsung launched the Samsung Galaxy A03s entry-level smartphone last September, it received encouraging responses from consumers. However, it uses a relatively old chipset, so Samsung released an improved model – the Galaxy A03.
The most noticeable difference with this model is in its chipset and camera. Unlike the Galaxy A03s, the Galaxy A03 features the Unisoc T606, while the camera has been upgraded to 48MP. Is this chipset and camera conversion worth it for you? Read this review to find out!
Design – Glasstic with subtle patterns
At a glance, anyone can see that this phone is an entry-level device, even if the person does not know much about electronic devices. After all, the Samsung Galaxy A03 has a plastic body with a matte finish.
The good thing about the matte finish is that fingerprints and smudges are less likely to stick. Another good aspect is the plastic material, which has a subtle pattern for a more comfortable grip. Also, the phone's camera bump is the same color as the chassis. However, it's not as thick as the camera bump on a flagship phone, giving it a lower profile.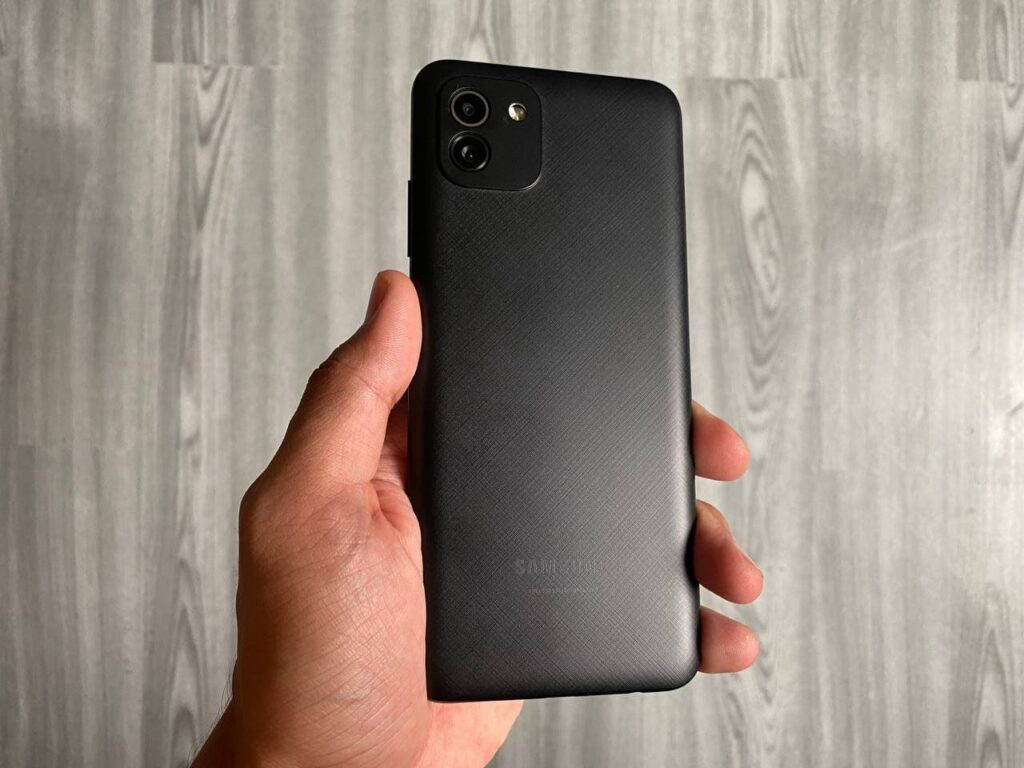 Galaxy A03 – Back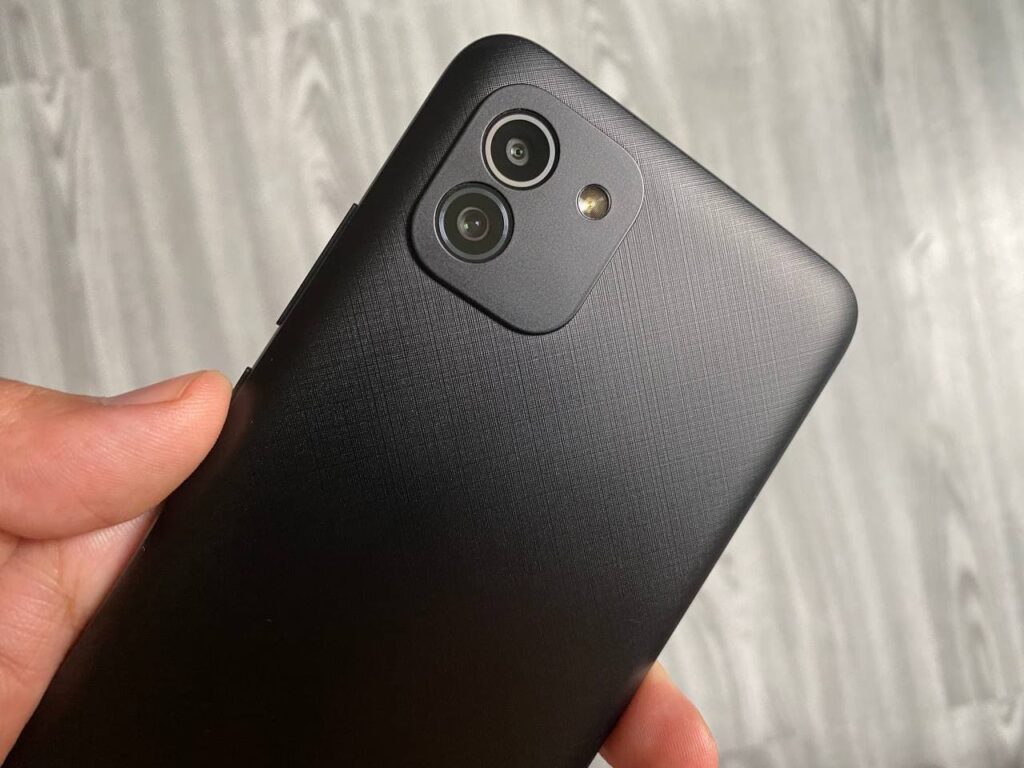 Close-up of the camera module
As you can see, the Galaxy A03 is not a high-end smartphone. But if you want an entry-level smartphone with this kind of design, the Galaxy A03 might be the one for you.
The Galaxy A03 is available in three colors: black, blue and red. Our review unit is a black unit that looked very neat. Unlike other smartphone brands, Samsung does not include a case in this phone box. So if you want to prevent the color from fading (especially for bright colors), be sure to buy one separately.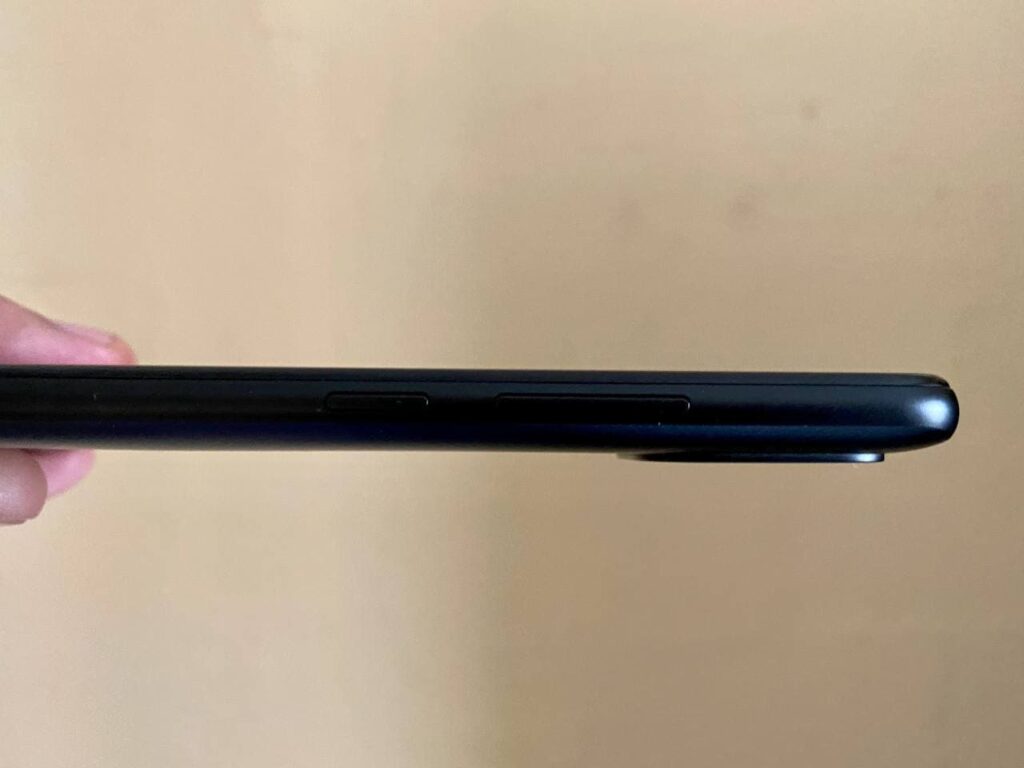 As usual, the volume and power buttons are on the right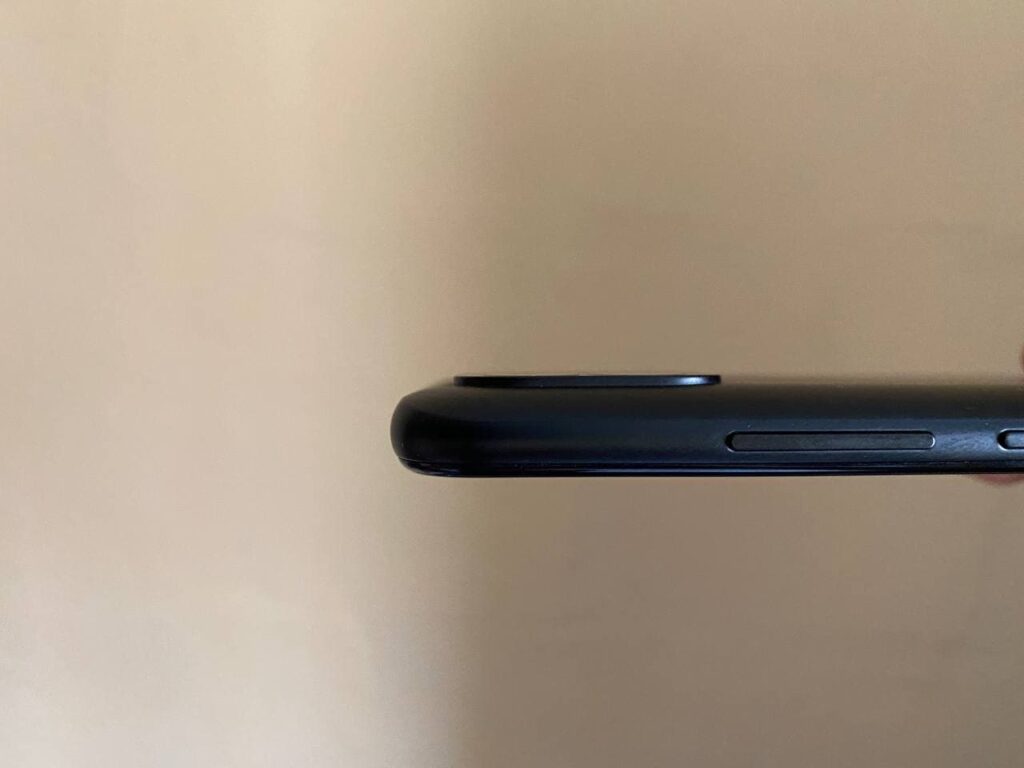 The camera bump is quite thin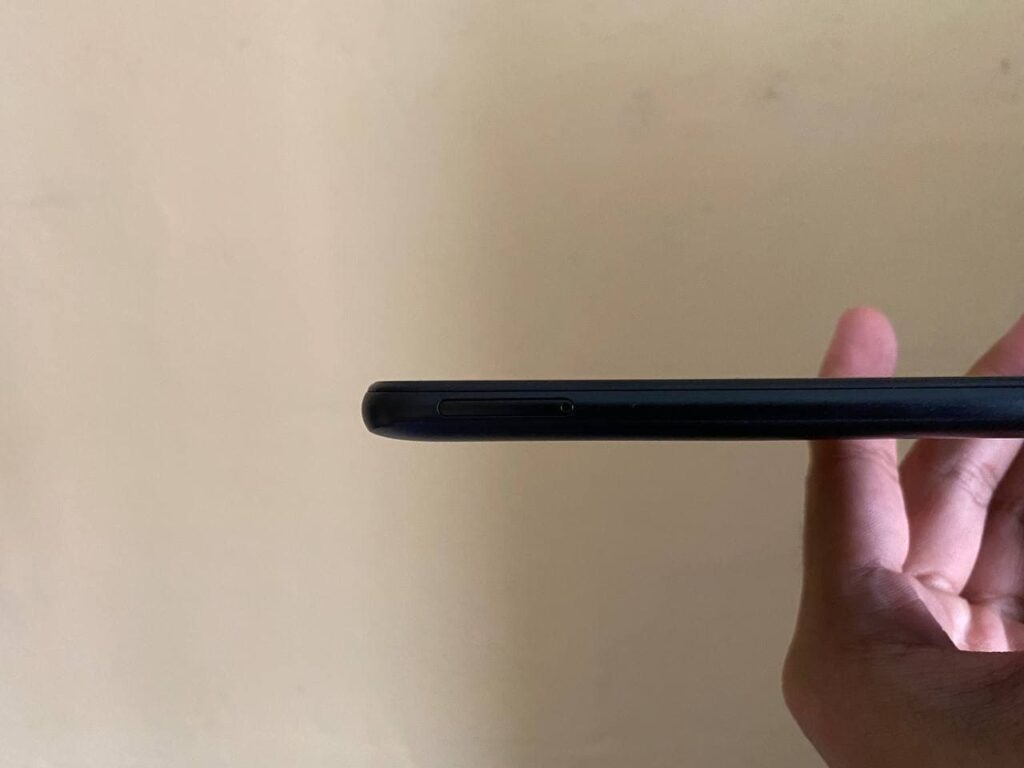 SIM drawer on the left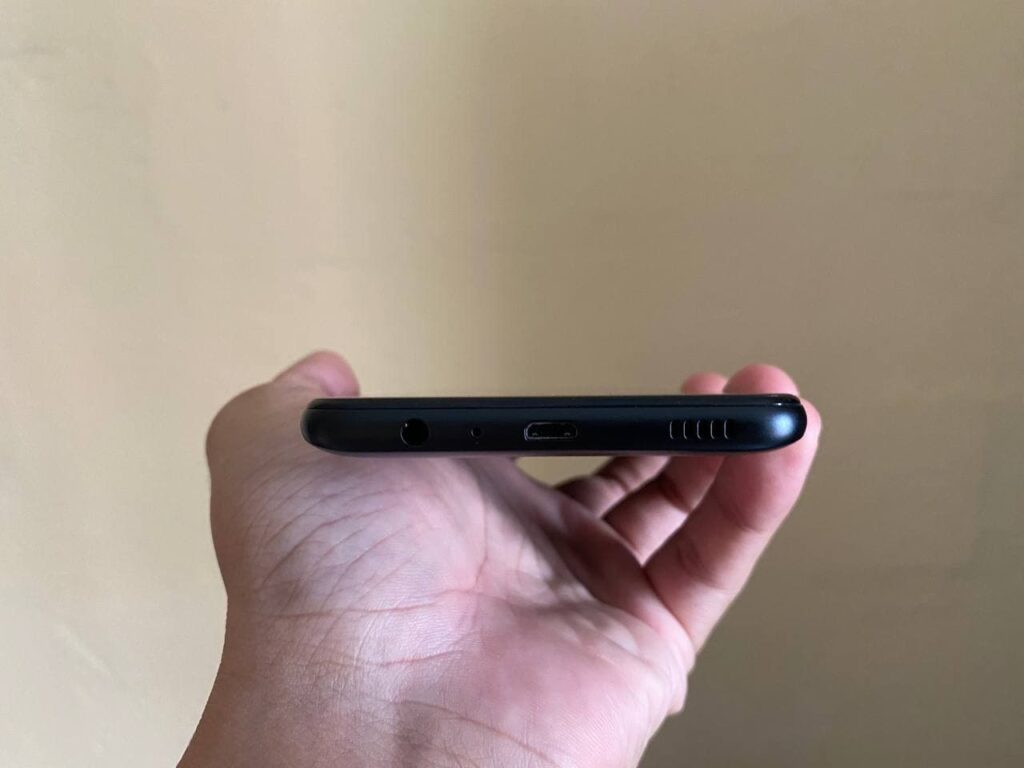 A micro-USB in 2022!?
OK, let's move on. The power and volume buttons sit on the right side of the Galaxy A03, while a micro-USB port (what!?), 3.5mm audio jack, and speakers sit below. For comparison, the Galaxy A03s comes with a USB-C port. To be honest, it's mind-boggling to see Samsung release a phone with a micro-USB port in 2022.
On the front, the Galaxy A03 features a 6.5-inch PLS TFT Infinity-V display. The bezels are thinner at the top and sides but slightly thicker at the bottom. Compared to Samsung Galaxy A03s, Galaxy A03 has superior image quality. It also consumes less energy thanks to its PLS TFT type screen.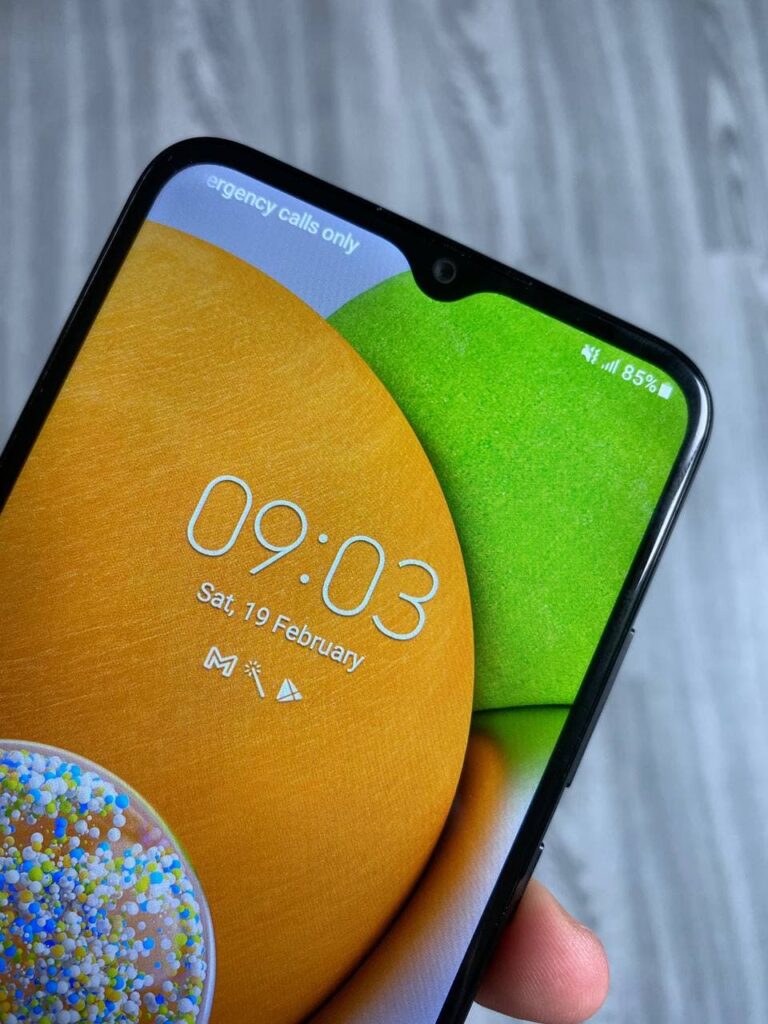 Teardrop notch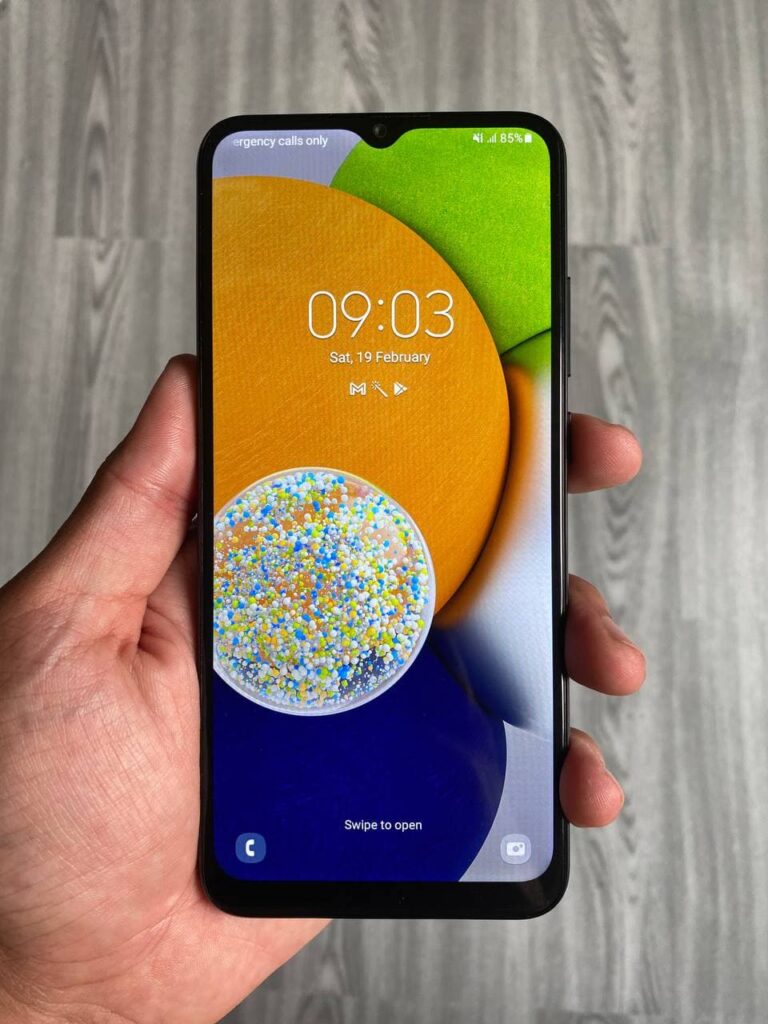 The bottom bezel is thicker which is quite common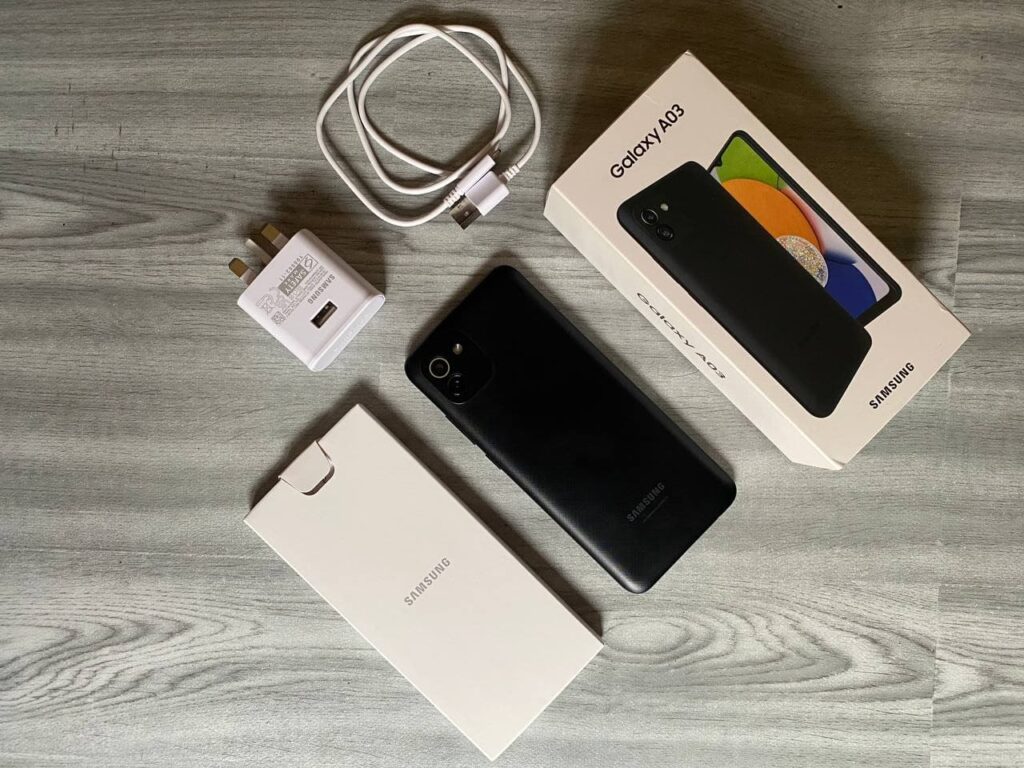 Everything inside the box
Tech Specs and Features – Overall upgrade over Galaxy A03s
Here are the full specs of the Samsung Galaxy A03:
Display: 6.5″ HD+ (720 x 1600) PLS TFT Infinity-V
Front camera: 5MP, F2.2
Rear camera: 48MP main, F1.8 + 2MP depth sensor, F2.4
Dimensions: 164.2 x 75.9 x 9.1mm
Weight: 196g
Chipset: UNISOC T606 Octa-Core (2xA75 1.6GHz + 6xA55 1.6GHz)
Memory: 3GB/4GB RAM, 32GB/64GB internal storage
Battery capacity: 5000 mAh, charging 7.75 W
Operating System: Android 11.0
Connectivity: Bluetooth v5.0, 802.11 a/b/g/n/ac 2.4+5 GHz, Wi-Fi Direct, GPS, Glonass, Galileo, QZSS
Colors: Black, blue and red
As you can see, the Galaxy A03 is pretty good for an entry-level phone. Besides that, it is a super affordable priced at RM469. There are notable differences between the Galaxy A03 and the Galaxy A03, especially in terms of chipset, camera, charging port, and Wi-Fi version offered.
The Galaxy A03 is equipped with Dolby Atmos stereo speakers with clear sound. It also offers Dolby Atmos experience for headphones in the settings. Moreover, there is also Dolby For Gaming which can improve the sound of your gaming sessions.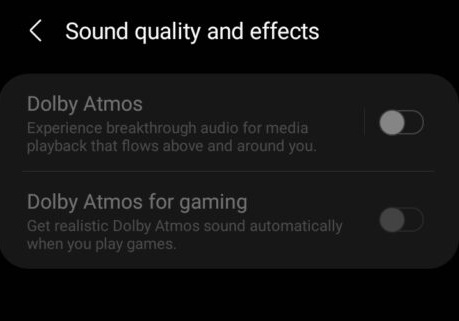 Dolby Atmos Settings
Home screen (left), App Drawer (center), Google Discover Feed (right)
In terms of software, the Galaxy A03 comes with the OneUI Core interface based on Android 11, which is very user-friendly. If you're used to Android devices, you won't have any problems with OneUI. I have Samsung OneUI to thank for a smooth experience. While using this phone, I didn't experience any lag when scrolling through apps.
The camera user interface is also easy to use. For the Galaxy A03, Samsung has included a portrait mode with automatic settings. The Bokeh effect can also be applied to selfies using the Live Focus Effect feature. Just tap on the subject you want to focus on, and voila!
On top of that, it has standard modes like Pro, Panorama, Food, Night, Hyperlapse, and Deco Pic (choice of cartoon face effects). As for video recording, it can record with standard video settings like other entry-level phones.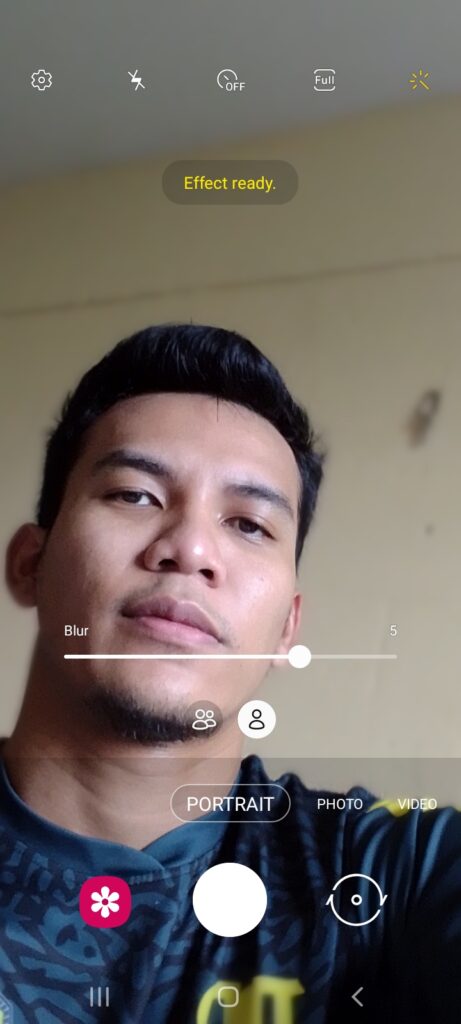 Portrait mode for the front camera
Interesting filters in the Deco Pic section (left), the main camera menu (center), various additional modes (right)
Performance – Enough for everyday tasks
Before commenting further on performance, I'll first present the benchmark results we got in Geekbench and 3DMark:
The Galaxy A03 produced a satisfactory score for an entry-level phone
As you would expect from the Unisoc T606 chipset, it offers enough performance for everyday tasks. We had no problems texting, browsing social media, watching videos, or accessing websites with it. However, the 3GB RAM is not much, so there would be some lag if you open multiple apps simultaneously.
For security, the Galaxy A03 is equipped only with facial recognition. In comparison, the Galaxy A03s has a fingerprint reader. I think the face scanning performance on the Galaxy A03 is pretty decent.
Galaxy A03 is not a good option for mobile gaming as its gaming performance is limited. You can play popular games like PUBG Mobile and COD Mobile, but it would still lag even on the lowest quality setting. If you want to play mobile games, we recommend buying a mid-range phone.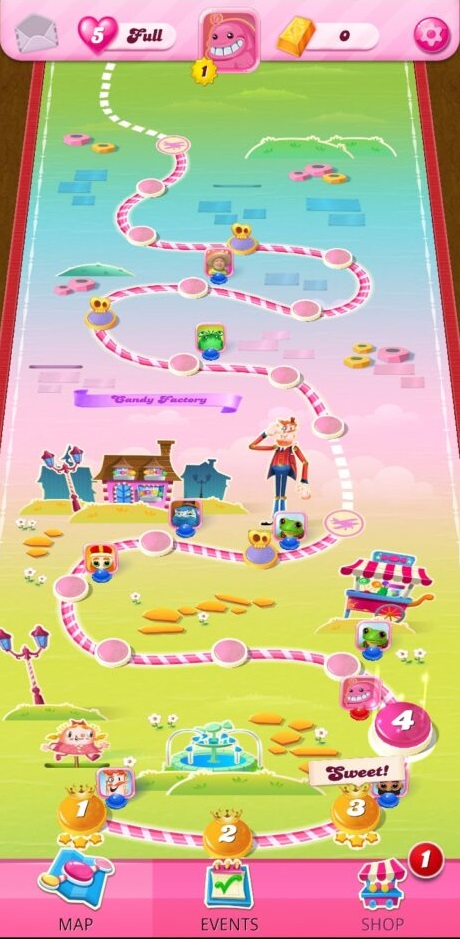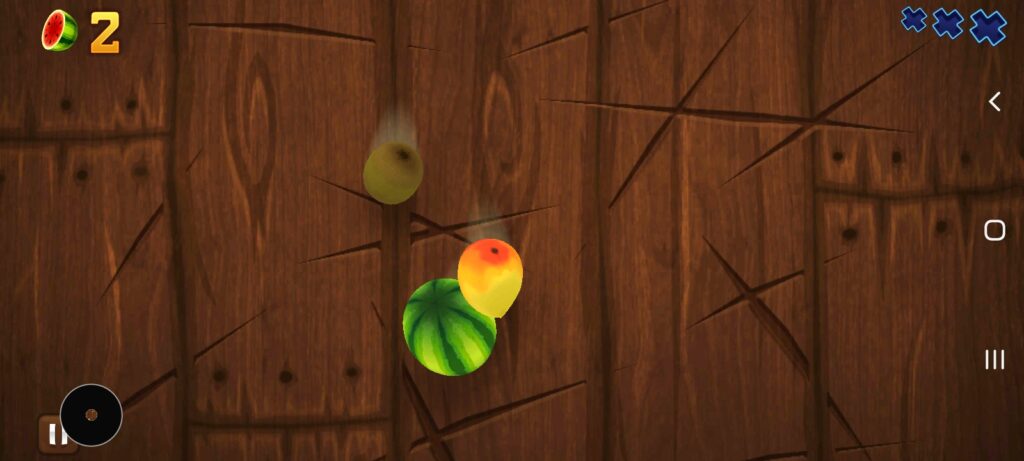 The only games you could play would be simple games like Candy Crush or Fruit Ninja
While playing games, I noticed that the Galaxy A03 heats up quickly. Mind you, I only played games like Candy Crush and Fruit Ninja. If you're using a smartphone case, remove it before playing. This would help maintain the internal temperature of the phone. Keep in mind that only games requiring low graphics usage can be played.
When it comes to battery performance, the Galaxy A03's 5000mAh capacity can last for a day. If you activate the power saving mode, it can last up to two days.
For charging, Samsung only provided a 7.75W charger in the box. If you use this charger, it takes about 1h30 for a full charge. Unfortunately, it doesn't come with fast charging. By comparison, the Galaxy A03s has 15W fast charging. Although not as fast as other phones, at least the Galaxy A03 has this feature.
Now let's talk about the Galaxy A03 cameras. The main camera, ultra-wide camera and depth sensors on the back provide enough functionality for a phone launching in 2021. The Galaxy A03s has one more camera, but the advantage of the Galaxy A03 is that its primary camera has a higher pixel count. .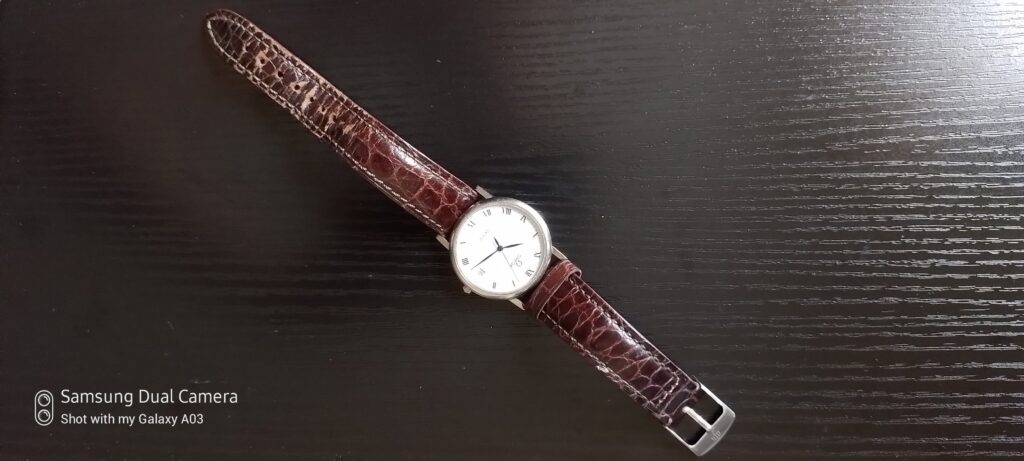 Automatic mode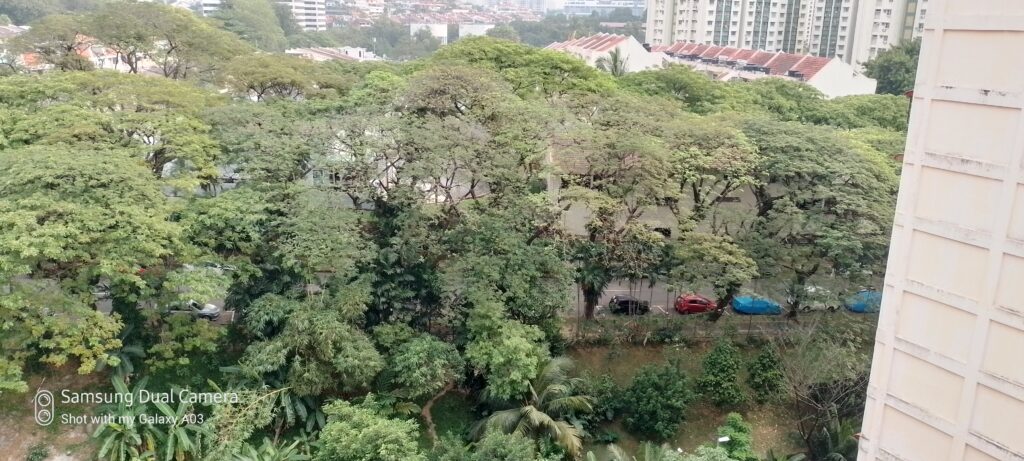 Automatic mode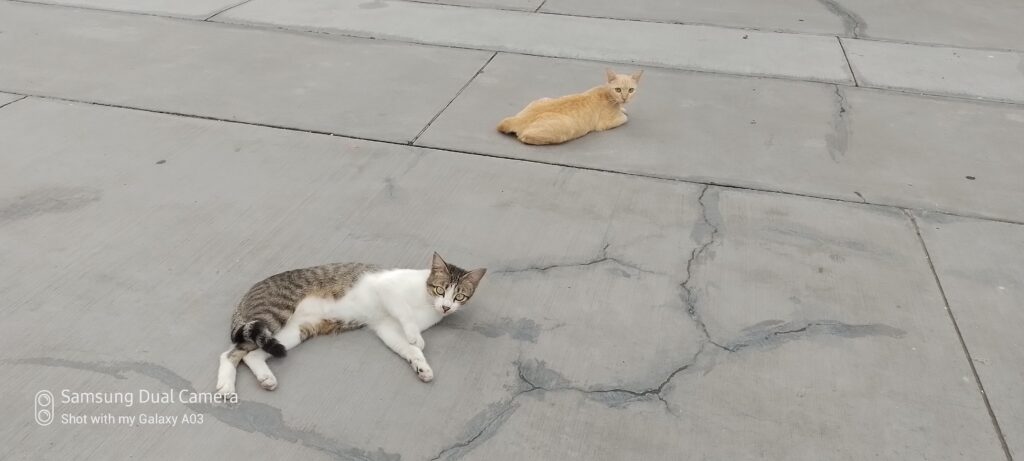 Automatic mode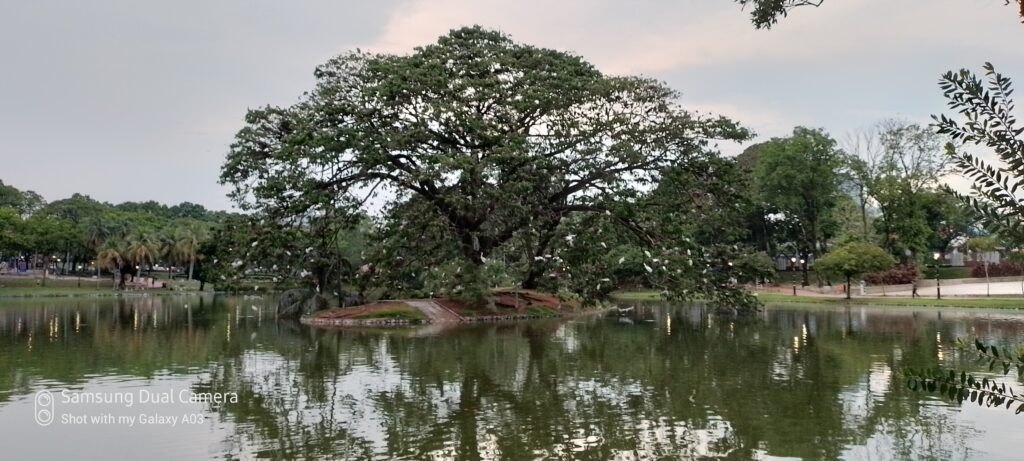 Automatic mode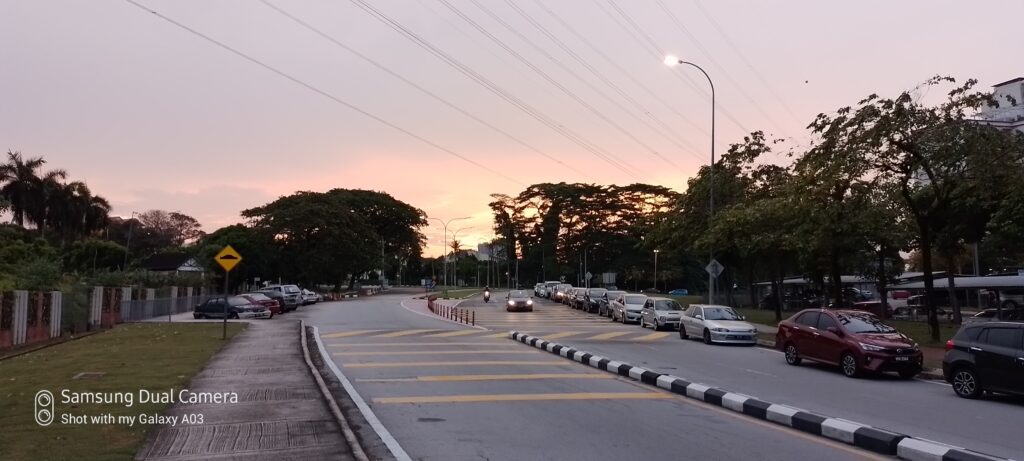 Automatic mode
No zoom, 2x zoom
4x zoom, 10x zoom
Pro Mode, Night Mode
Overall, the images produced in automatic mode seem satisfactory. But one thing I noticed is that the colors are more saturated. For those who love mobile photography, Pro mode allows you to adjust ISO, white balance and contrast when taking photos.
For me, the camera of this Galaxy A03 is just enough to take pictures and share. Considering the price of the phone and the quality you get, most people should be happy, although the cameras are a little disappointing.
When taking photos in low light conditions, night mode provides better quality and can be used with the main camera. It does not produce much noise, but some photos will have an overly sharp effect which reduces the level of detail in the images. Also, you need to keep the phone stable in night mode because there is a timer (timer) when a photo is taken.
Video recording has two resolution options, namely HD and FHD. However, you can only record videos at 30 frames per second. Also, it should be noted that this phone does not have video stabilization.
Samsung Galaxy A03 Video Recording Example
Conclusion – Better option compared to the A03s
The Samsung Galaxy A03 offers a decent user experience for most people, especially those who just expect the phone to perform day-to-day tasks. Compared to the Galaxy A03s, the Galaxy A03 offers faster performance, although it's not very noticeable.
Serious users will likely notice the difference, especially when opening apps. However, a downside of the Galaxy A03 is the micro-USB port, which I don't think should be used nowadays. Ultimately, the choice is yours.
For the price, I definitely recommend the Galaxy A03 because you'll get better value for money with the performance of the Unisoc T606. At RM469, it's also cheaper than the A03s (RM559). Other suitable alternatives for this phone include vivo Y20 (RM459), realme Narzo 50i (RM449), OPPO A16 (RM479) and Redmi 9C (RM449).
Are you interested in this smartphone? Share your thoughts in the comments and stay tuned to TechNave for more reviews like this.