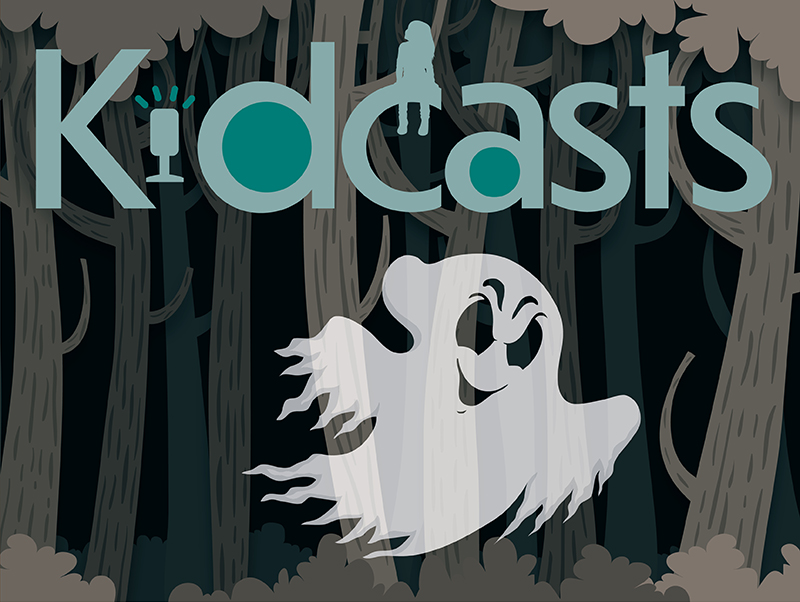 Spooky Sounds: Great Family Podcasts for Halloween | Kidcast
Listen to these fun and (a little) scary podcasts with kids of all ages.
Although most podcasts in the horror and thriller genres are aimed at older kids and adults, we've compiled a collection of episodes that can entertain kids and their families at any age.
Check out the full Spooky Fun playlist.
Newsy Pooloozi: Hungry Ghosts Festival, Halloween and Day of the Dead, plus Killer Whale Mystery and more!
A British-Indian-American mother-daughter duo create this weekly global news podcast covering current events as well as various points of interest for children and families. Their episode "Spooky Special" is a global exploration of the Hungry Ghosts Festival in Asia, American Halloween and Day of the Dead in Mexico, and the mystery of killer whales bumping into each other at sea and haunted houses in Japan.
Buttons & Figs: A Halloween Night in the Halloween Zone
Librarian Pamela Rogers and musician Mark Pena introduce children to nonsense literature, poetry, songs and sounds to encourage them to play with words. They regularly collaborate with children and Halloween is one of their favorite themes for music and puns.
Tumble Science Podcast for Kids: We're Not Afraid of Ghosts: A Halloween Fall
Hosts Lindsay Patterson, science journalist, and Marshall Escamilla, teacher, ask a sociologist: "Why do people believe in ghosts? and "Can science ever prove they don't exist?" in this episode which is more of an entertaining exploration than a chilling tale. This award-winning podcast features a strong catalog of Halloween episodes and will release a new Halloween episode closer to the holiday.
Professor Theo's Mystery Lab: A Splendid Spooktacular Halloween Special
Written and performed by Jonathan Joy, this show revolves around a fictional town in West Virginia that is home to superhero kids and astronauts, time-traveling teenagers, kids who can quantum-jump in games video, and more.
Fina Mendoza Mysteries: Dia de los Muertos
In this mini-episode of the series podcast Fina Mendoza Mysteries, listeners hear about the history and traditions of the Día de Los Muertos. Fina and her sister learn about the holidays against the backdrop of their mother's recent death. Educators interested in learning more can view the program listings for this episode on Fina Mendoza's website: finamendozamysteries.com.
Unavoidable : Polybius: The Ghost Video Game
Unlikely unpacks myths, legends, and paranormal activity with a delicious scare factor. Host Elise Parisian narrates 30 episodes filled with haunting mysteries. The show provides compelling information on haunting phenomena, with topics from Slender man and ghost ships to aliens and the legendary haunted video game, Polybius.
The hollow: The school teacher
Three sixth graders at Sleepy Hollow Middle School fear the school is being haunted by the Headless Horseman. Dramatic sound effects and music raise the level of engagement in this thrilling audio drama created to celebrate the 200th anniversary of Washington Irving's short story "The Legend of Sleepy Hollow."
---
Phoebe Owens is a freelance librarian, writer and podcast co-creator Power Dog's adventures in Dogland. Ali Wilkinson is a nonprofit lawyer, writer, and co-creator of the podcast Interesting facts about animals.
Get the print. Go digital. Get both!