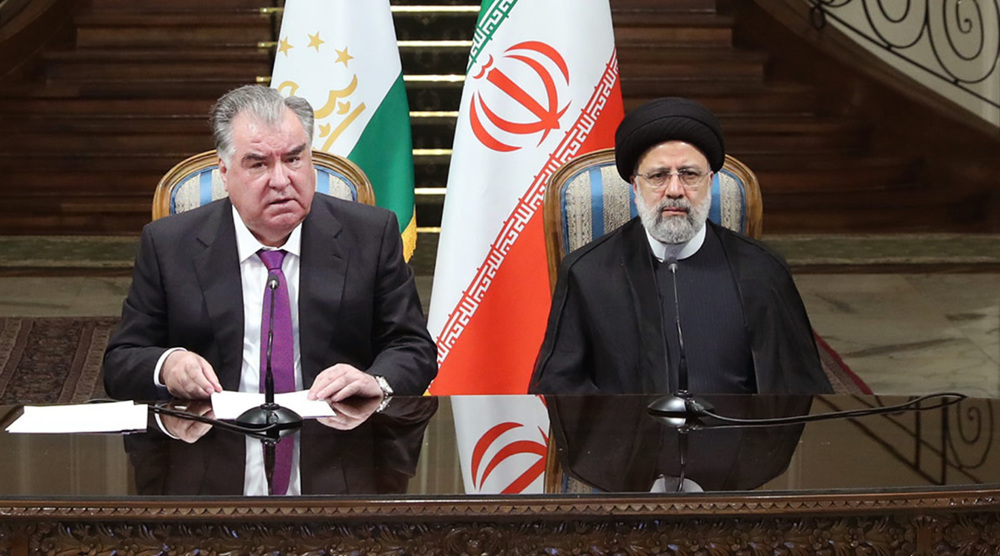 Tajik president in Tehran to 'cement friendly ties'
Yusef Jalali
Press TV, Tehran
Shake hands of friendship in Tehran; Tajikistan's President, Emomali Rahmon, is on a two-day trip to Iran at the invitation of his Iranian counterpart, Ebrahim Raeisi.
The first day was the busiest day, during which the two sides signed cooperation documents in various fields, ranging from energy and environment to tourism and urban development.
The two sides also discussed regional developments, with both sharing the same position that Afghanistan should be governed by an inclusive government.
Tajikistan has been a strong supporter of Iran's full membership of the Shanghai Cooperation Organization, or SCO.
In September last year, the Tajik president invited Raesi to his country, where Iran was finally approved as a full member of the SCO; a major bloc of Asian states launched in 2001 by China, Russia and the Central Asian republics with the aim of promoting political, trade and economic cooperation.
Despite their historical, linguistic, cultural and religious commonalities, Tehran and Dushanbe have not maintained a remarkable trade partnership.
In 2020, the trade volume between the two countries was around $57 million, up from a peak of $300 million in 2013.
Raeisi's visit to Dushanbe last year paved the way for increased economic ties between the two sides, boosting annual trade fivefold to $130 million.
The two have set a target of $500 million for annual bilateral trade, despite challenges from US sanctions on Iran.
Closer ties with neighbors have been high on Ebrahim Raeisi's foreign policy agenda since he took office nearly a year ago, as part of his ambitions to untie the economy of his country to the fate of the 2015 agreement.
As a country that shares many concerns and commonalities with Iran, Tajikistan is on the same wavelength as Tehran to open a new chapter of their partnership.